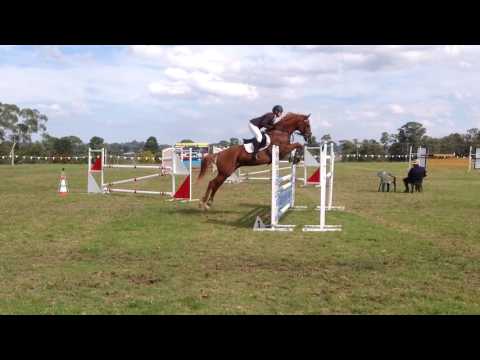 Description
Unraced TB gelding. Sire: Delzao. Dam: Celtic Twist
'Twisty' is an incredibly sweet natured and charismatic horse that is a pleasure to own. He has competed up to 1.15m showjumping with multiple clear rounds and placings, and has always been ridden in a snaffle. He has been to many different SJ events, including Jumping With The Stars as a 4yo & 5yo, and the Australian Champs, so he has been exposed to nearly every type of jump and environment. Twisty has also completed two 3-day jumping clinics with the legendary George Morris. He was even used for the Melb Cup promo shoot last year, where everyone was amazed by his fantastic temperament and behaviour.
Although he doesn't have particularly flashy movement, his flatwork is well established with flying changes, shoulder in, leg yield, counter canter etc. He has never been on a XC course but being such a bold showjumper I would expect him to make the transition quite easily. Twisty is vice free and great to shoe, clip, float, and he is very easy to take to competitions.
This is a devastating sale of a much loved horse and he will only be sold to the absolute best of homes! He will not be sold sight unseen. Any type of vet check is welcome. No beginners or nervous riders please.
Video footage is available: https://youtu.be/xbts5D4R1gA https://youtu.be/30dzgkfupZI https://youtu.be/iFwc6g1GUV8
Summary
Breed:
Height:

16.1hh
Age:

8yo
Sex:

Gelding
Location: